News | About Equilibrium
Equilibrium becomes only firm to feature in Sunday Times Top 10 UK Small Companies list for past 4 years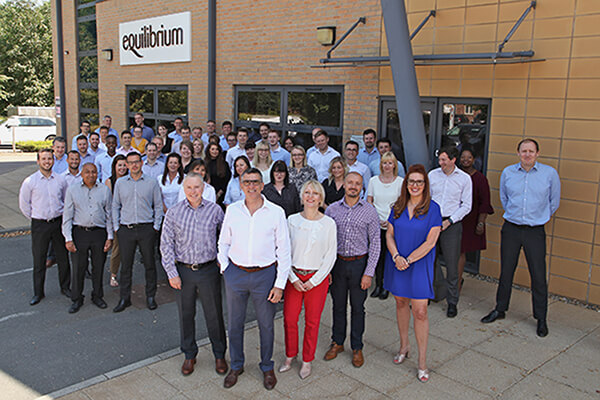 Equilibrium became the only firm to be named one of the top 10 Best Small Companies to work for in the UK by The Sunday Times for the past four consecutive years.
On the night Equilibrium also scooped the special "wellbeing" award for the first time, thanks to initiatives such as trained in-house mental health practitioners; massages; free breakfasts; after-work yoga sessions; having essential oils available for the team around the office; group meditation sessions; and up to 38 days' holiday.
The list is based on a survey in which staff anonymously score their employers based on several metrics including wellbeing, leadership and personal growth.
Companies submitting to The Sunday Times Top 100 Best Small Companies to Work for – SMEs with 50 – 250 full-time employees – are also asked to demonstrate evidence of community engagement, charitable initiatives and environmental practices.
Equilibrium's managing partner, Gaynor Rigby, said: "It never gets any less exciting being named on this prestigious list – as with every year previous, the whole Equilibrium team feels very proud and happy.
"This year has been our best yet at Equilibrium; we've reported a record turnover and have overhauled our brand image. We've also committed to raising £4m for charity by August 2028 and hit £1bn assets under management for the first time ever.
"It's been a year of change and growth, and this award is just the cherry on top of a brilliant period. We were early champions of investing in our workforce wellbeing and understand the importance of nurturing talent so that employees feel happy, safe and capable of doing incredible things."
Organisers of the The Sunday Times Top 100 Best Small Companies To Work For' also credited Equilibrium's working culture.
Jonathan Austin, founder and CEO of Best Companies said: "I would like to congratulate Equilibrium on achieving a Three Star Accreditation and being named as one of the UK's top 10 best small companies to work for. Best Companies has been acknowledging excellence in the workplace since 2006 when we launched our Michelin-style accreditation standard.
"We are proud to work with organisations like Equilibrium who focus on their people and as such have been rewarded with an engaged workforce who tell us that they're a best company to work for."