Defined benefit (DB) pension transfers
Defined benefit (DB) pension transfers
Defined benefit (DB) pension transfers
Making the right decision on whether or not to transfer your defined benefit pension scheme is vital to your
Get the decision right and for ma future. ny the results can be life changing, allowing greater flexibility, earlier retirement and potentially creating a valuable legacy. Get it wrong however and the results could create a financial disaster…
Defined benefit pension transfers (also known as a final salary scheme)
A deferred member of a defined benefit (DB) scheme will have built up pension benefits to become payable at the scheme retirement age. These will be based on the salary whilst employed and the number of years worked for the company. There will also be a scheme accrual rate which determines how the number of years and salary figures are converted into pension benefits.
Under a DB scheme, the pension benefits payable at the scheme retirement age are fixed and guaranteed by the scheme and employer. There is no element of investment risk and (as long as the scheme does not fail) the benefits will be paid as promised.
The transfer from a final salary scheme effectively exchanges this future promise of pension benefits for a cash lump sum, which represents the current value of the future benefits. This is known as a cash equivalent transfer value (CETV).
If you choose to transfer your final salary pension, it must be moved into a registered pension scheme (typically a personal pension), which is a form of defined contribution arrangement. You will cease to be a member of the final salary scheme and cannot transfer back in the future; the decision is irreversible!
The Equilibrium defined benefit pension transfer review service
Deciding whether to transfer out of your defined benefit pension scheme is an incredibly important and highly complex area of financial planning advice, with multiple factors to consider.
Our gold standard service has been designed to fulfil the following key requirements:
Holistic: A defined benefit pension transfer should only be considered as part of a holistic review of your overall circumstances and objectives.
Educational: A lack of knowledge can lead to decisions being made without the implications being fully understood. We will ensure you are fully informed when the time comes to decide how to proceed. This will include a detailed overview of how investments behave for those with limited previous experience of investing.
Digestible: All too often we have seen reports that are over 100 pages, difficult to read and full of jargon. We have therefore broken our reporting down into four separate modules to make digesting our comments easier. This is explained further below.
We have designed our review process to reach one of the following two outcomes:
| | | |
| --- | --- | --- |
| Outcome | We believe that the transfer is suitable | We believe that the transfer is not suitable |
| Why | We can clearly show it's in your best interests | We cannot show that it's in your best interests; or We can clearly show that it's not in your best interests |
| Then | We will be happy to process the transfer on your behalf | We will not process the transfer even if you insist |
Our advice is delivered in three initial modules, followed by a final recommendation confirming our conclusions.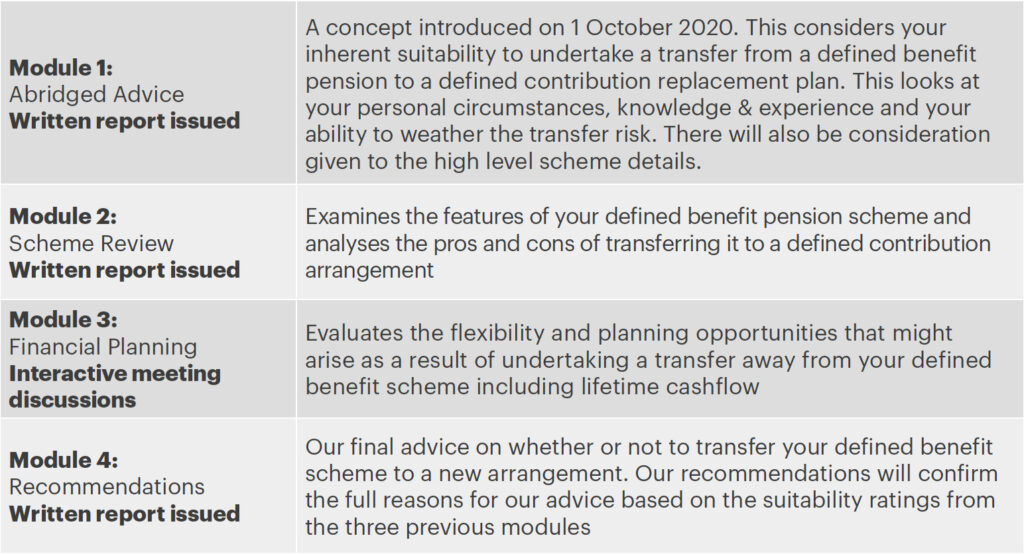 How much does it cost?
The review of a defined benefit (final salary) scheme is an in-depth and lengthy exercise. To cover the costs associated with reviewing each pension scheme, we will charge:
Module 1 – £1,750 plus VAT for the first scheme plus £500 plus VAT for each additional scheme. This fee is payable prior to commencing any work.
Modules 2-4 – To calculate our fees, we total the transfer values of all schemes reviewed together:
Total below £1.25m: 1.25% subject to a cap of £9,375 (minimum total transfer value of £250,000).
Total above £1.25m: 0.75% subject to a cap of £15,000
These fees are charged on completion of module 4. VAT will be charged in addition if no transfer takes place.
If a transfer is recommended and you decide to proceed, we would typically recommend that your replacement pension is managed on an ongoing basis. If you appoint Equilibrium for this service, our standard ongoing fees will apply to the transferred assets once received.
Timescales
We expect the review of your final salary pension scheme to take between two and four months to complete. This is due to the amount of information we need to gather from you and the scheme and the complexity of the analysis.
The main time sensitive aspect of the process is after we receive the cash equivalent transfer value (CETV) from your scheme, as this will only be guaranteed for a 90-day period. Unfortunately, many schemes do not provide all the information we need at the outset and are slow to respond to further information requests which is one of the major factors that can cause delays in the process. Some schemes will only issue one CETV per year, and others will charge for a new one. Because of this, we recommend that you do not request a CETV yourself as this could significantly reduce the amount of time that we have to analyse your pension and make our recommendations.
Find out more
To learn more, get in touch with our advisers by completing this short form or by calling 0808 156 1176