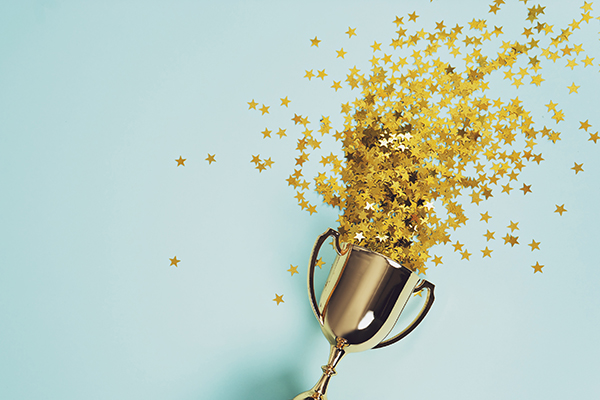 This article is taken from our spring edition of Equinox. You can view the full version here.
We are proud to have won numerous awards over the years, and we'd quite like to win many more!
We find that, generally, awards fall into three broad categories.
 1. "You've been chosen for the Best Company in the World Award by the Greatest Awards Ever, simply pay £5,000 for your press package to use our logo."
Unbelievably, we get many approaches for accolades such as this and, needless to say, we never engage.
2. Survey based awards
These awards rely on internal and/or external feedback on your company. For example, the Sunday Times and the CX awards. The CX awards provide us with a score based on feedback from both our staff and clients. Whilst it would be easy enough for us to take our (pretty damn good) score of 9.12/10 and run, we believe it's important to go through that process every two years. Why? Because it holds us accountable. If our score suddenly drops, it means we've dropped the ball somewhere and we need to do something about it.
Similarly, the Sunday Times Top 100 Best Small Companies to Work For gives all those who take part a score which determines their position on the list. This year, whilst our achievement of 7th place didn't beat our all-time record of 5th place, our score was actually higher than ever, meaning that we're a better place to work than ever. As a nice bonus, we also won a special prize for workplace wellbeing!
3. Submission based awards
Whilst these take the most time and effort, they can also be the most rewarding.
We are currently shortlisted for four categories for the North West Business Awards: Business of the Year, Best Customer Service, Community and Social Responsibility and Employer of the Year.
Each entry required a comprehensive submission from which we were then shortlisted for an interview which was filmed. The interview is watched and scored separately by a panel of judges who decide the top three submissions (bronze, silver and gold). We will find out whether or not we have been successful at the award ceremony in September.
However, regardless of the outcome, the true value comes from what you learn in the process. Each question in the submission and interview forces us to think about what we are doing well, what we can do better and the different approaches we could adopt. It's a genuinely steep learning curve, and each entry makes you improve for the next.
It's a true case of 'it's taking part that counts' – we only enter awards that we think are worth winning and that will challenge us. Our hope is that we get better as a result and that the awards we do win provide a pat on the back for our amazing team, as well as confidence for existing and prospective clients.
Not to mention, the awards themselves will look quite pretty in our brand-new office!