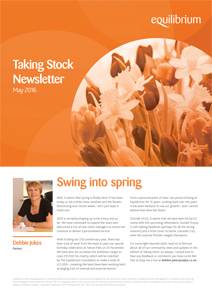 Equilibrium Asset Management quarterly newsletter Taking Stock
Taking Stock
Keep up to date with the latest from the Equilibrium team
Taking stock is our quarterly publication which includes all the latest on the Equilibrium team including latest fundraising, exam passes and office activity.
Equilibrium. Life should be enjoyed.

Subscribe to our publications
November 2016
To download a PDF version of this issue, please click here.

Previous Issues
To see a full archive of all our previous publications please click here.