Market briefing 9th March 2020
Market briefing 9th March 2020
It has been a turbulent couple of weeks in the stock market, with volatility reaching new levels today (9 March).
This morning, the FTSE 100 fell more than 9% to below 5,900. As I write it has recovered back above the 6,000 mark but remains down more than 7% on the day.
This puts the main UK index into a bear market, defined as being 20% or more down from its recent peak.
This latest drawdown is, of course, related to the ongoing spread of coronavirus (COVID-19). Italy's move to quarantine much of its northern region and the increase of cases here in the UK are obviously causing concern.
Today's move was specifically triggered by what's happening in the oil markets. As demand has fallen, it had been expected that OPEC and Russia would agree to cut production to support the oil price.
However, their meeting ended in acrimony and with Saudi Arabia instead saying they would ramp up production, in a search for market share.
This morning, Brent crude oil was down around 22% from an already low $45 a barrel to $35.
BP and Shell were both down around 25% at one point. Together these companies represent around 10% of the FTSE 100 Index. Smaller oil companies were hit even harder, with Premier Oil down over 75% at one point today.
This is a huge intra-day move, the likes of which we've not seen since the financial crisis. The good news is that we are generally underweight oil and gas relative to the benchmark, and also have a bias towards small- and medium-sized companies in the UK which have fallen less so far.
However, portfolios will still be affected. As of close on Friday, the FTSE 100 was down 14.94% from its recent peak (17 January). Over this period, our cautious fund was down 4.84%, balanced down 5.63%, and adventurous 7.07%. It is worth pointing out that, at this stage, this means the funds are still in positive territory over a 12-month period (6 March 2019 to 6 March 2020).
What's next for the global economy?
Clearly, this is a very serious situation and it now seems likely that we are heading for a significant global downturn. The key questions are 'how significant will it be?' and 'how long will it last?'.
As we pointed out last week, markets and economies have a habit of bouncing back strongly after a downturn. Even if we see a recession, we believe this is likely to be temporary. Governments and central banks around the world will be looking at ways to stimulate the economy and make sure companies don't go bust in the short term.
We therefore still believe the drop in markets is most likely an opportunity to buy in at a cheaper price.
This illustration, from American financial planner Carl Richards, caught my eye recently and sums up our long-term philosophy.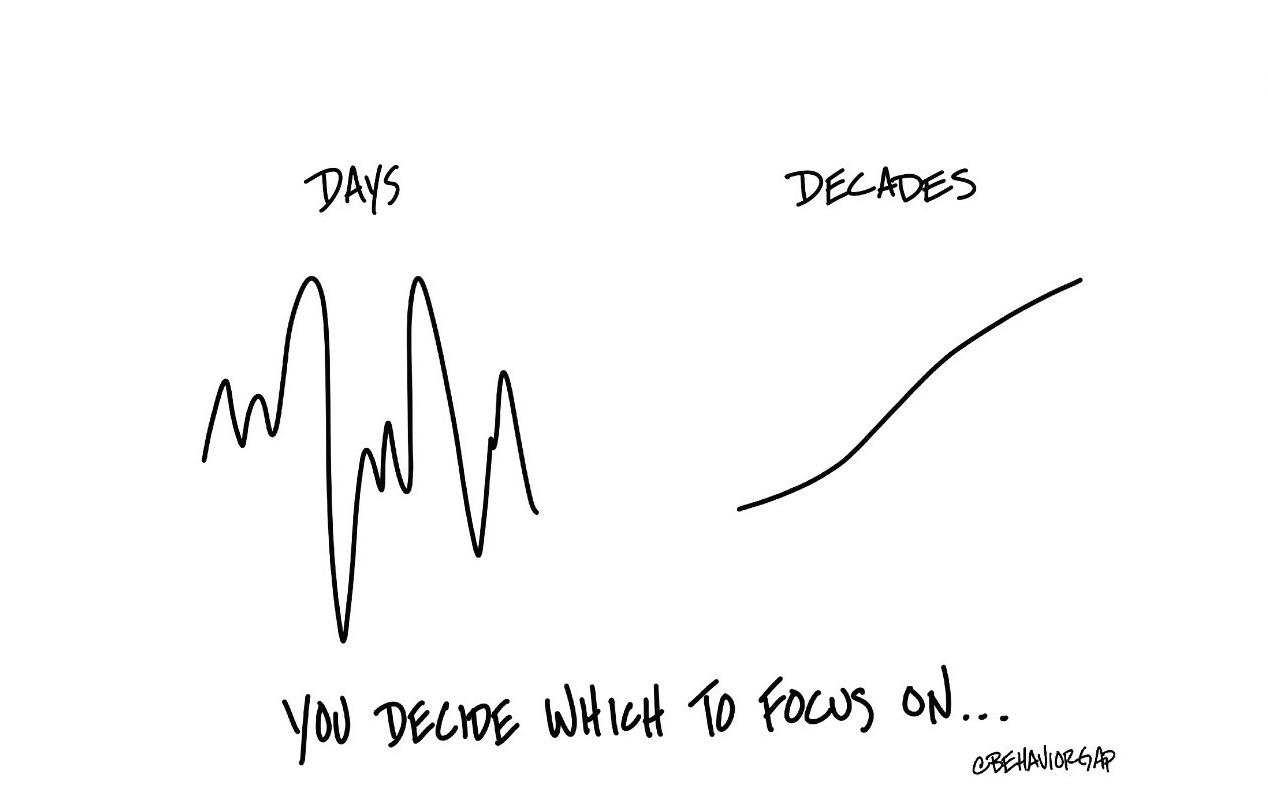 If we look at returns over the past five years, we can see another reason for thinking long term. Our typical mix of equities (in green) is up over 41% over the five years to 6 March, compared to the FTSE 100 (orange) at 15%. A typical balanced portfolio (purple line) is up 21.45% after fees over this same period: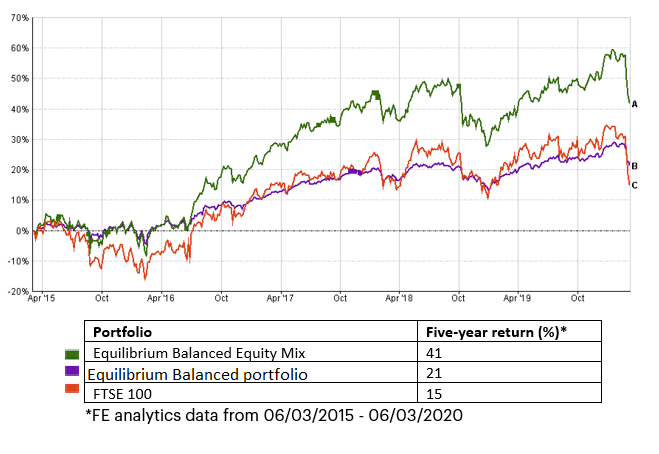 *Performance data prior to 1 November 2017 (launch date) is calculated using the backtested model fund including 1% charge.
It is worth pointing out that the news from China where the virus originated is looking more positive, with new cases in the region down significantly and the country's economic activity getting back to normal. Perhaps surprisingly, our best performing equity fund over the last three months is our Chinese holding, up 6.9% from 6 December to 6 March whilst all our other equity funds are negative over this period.
In Europe, we are clearly some way behind the curve relative to China, but this perhaps illustrates that the effects may (hopefully) be temporary.
What have we been doing?
In last week's update, I explained how we had reversed one of our volatility trades for cautious and balanced portfolios. Having bought a FTSE tracker at 6,750, we reassessed the situation and decided to sell this again. We sold for a marginal gain at around 6,800, as we were worried that markets could go down further.
We then re-set our buy triggers for 6,550 and bought again on Friday for between 1.5% to 2% of portfolios.
As markets dropped again this morning, we again topped up by 2%, this time in our balanced and adventurous funds, but not for cautious clients. Having bought at around 5,900 we will look to sell this again at 6,300, aiming to bank a 5% gain or so, although there is no way of knowing when this is likely to happen.
We have also reduced some of our exposure to other non-equity assets which carry risks, such as certain corporate bonds and funds exposed to infrastructure and property. On the flip side, our exposure to government bonds has been positive in portfolios, with them rallying sharply as equities fall. We've topped up our exposure to these high quality, mainly government bond funds.
We want to make sure we have plenty of liquidity and that the non-equity part of the portfolio remains relatively defensive, which allows us to take the risk of buying into equities.
What next for the UK? How does this affect Equilibrium?
It seems likely that the UK will switch from the "containment" phase of its planning to the "delay" phase, probably this week.
This will likely involve some sort of what we are now calling 'social-distancing', and recommendations to avoid non-essential travel. It may involve school closures and the like.
Like most businesses, Equilibrium has been carrying out contingency planning. We already had extensive 'disaster plans' in place prior to this situation and we are able to work remotely in many cases. For example, the management of your investment portfolios can all be carried out without us being physically in the office.
We will share some of our contingency plans with you later in the week. In the meantime, if you are due to come in for a meeting, we can offer to do this remotely by telephone or web conference if you would prefer.
We appreciate that clients may have questions about current markets and about your portfolios. To that end, we're compiling a list of 'frequently asked questions' so we can address all concerns.
If you have any queries you would like us to address, please get in touch.
The content contained on this webpage represents the opinions of Equilibrium Investment Management and in no way constitutes a solicitation of investment advice. It should not be relied upon in making investment decisions and is intended solely for the entertainment of the reader. Past performance is not a guide to future returns. The value of your investments can fall as well as rise and are not guaranteed. Investors may not get back the amount originally invested.