News | About Equilibrium
Equilibrium reaches £1bn AUM milestone for first time in company's history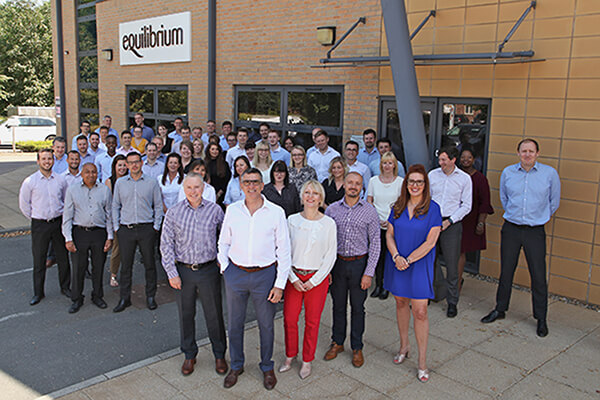 Equilibrium Asset Management has hit £1bn in assets under management, as it remains firmly on track to reach its target of £4bn AUM by 2028.
The milestone has been achieved exclusively through organic growth and comes off the back of record turnover last year, almost 25 years since Equilibrium was founded by Colin Lawson.
Founder, Colin Lawson, said: "Since the company's inception in 1995 we have always prided ourselves on taking an empathetic, compassionate approach in our dealings with clients – an approach that is increasingly in demand.
Colin also attributed the achievement in part to the company's focus on its purpose which is simply to make people's lives better.
He said: "Whilst making wealthy people wealthier is part of what we do, it's not our purpose. Helping wealthy people have confidence and clarity around their money which then leads to them making better decisions to improve their lives, the lives of their families and their community is a true purpose the whole team can get behind.
"While proud of this milestone achievement, which wouldn't have been possible without the hard work and dedication of our brilliant team, it's the number of clients that we have impacted that we are most proud of."
"It's no coincidence that Equilibrium has soared since we put company culture and the wellbeing of our staff front and centre. Our productivity levels have increased, and we've collectively adopted a growth-focused mindset."
Last year marked the third consecutive year that Equilibrium was named in the top ten of the Sunday Times' Best Small Companies to Work For list. They will find out if they have featured for a fourth time at the awards ceremony in February.
Colin continued: "Everything we do comes from the four pillars which we stand for – integrity, excellence, simplicity, and growth. I'm very pleased that this approach has paid off and feel that we're in a great position to achieve our targets."
The £1bn AUM milestone links directly to the firm's longer-term targets, which include hitting £4bn AUM, increasing turnover to £40m and improving the lives of 4,000 clients by 2028.
The company has is also aiming to raise £4m for its charitable foundation by August 2028 and recently announced itself as a supporting partner of the Robert F. Kennedy Human Rights UK Ripples of Hope Business & Investment Summit at HOME, Manchester on January 30.
Equilibrium specialises in all areas of wealth management, investment, pensions, tax planning and estate planning and has an additional office in Chester.
Equilibrium was also ranked in the top 20 of the FT Adviser's Top 100 Advisers and won a number of other awards – including 'workplace health and wellbeing' at the North East Cheshire Business awards. The same awards also recognised the firm in the 'Best company to work for' and 'Excellence in customer service' categories.